Diversity Day Goulburn Mulwaree Council
Client: Goulborn Mulwaree Council
Topic: Diversity and Inclusion in the workplace and the community
Role: Opening Keynote and Stand for the second leg!
Other requirements: As seen on your bio video, we feel your upbeat energy and charisma would be well suited to hosting this event for us (Think Ready, Steady, Cook!)
The first annual Goulburn Mulwaree Council (GMC) Diversity Day was held in conjunction with Australia's national Harmony Day on Wednesday, 21 March 2018 to encourage awareness, respect and inclusion amongst Council staff and the wider community.
Goulburn is Australia's first in-land city founded in 1863 with a predominantly rural and agricultural industry and history. However, this small regional landscape is rapidly changing. Due to Goulburn's neatly positioned proximity to the growing metropolises of Sydney and Canberra, Goulburn's population, demographic and culture has been evolving. In turn, consistently attracting businesses, investors and new residents. Attuned to this diversifying cultural landscape, GMC aims to support and proffer a community of inclusion and respect.
The attendees of Diversity Day (200 people) included GMC staff and some community guests, including children from local youth groups who, we believe, would greatly benefit from listening to your experiences.
The second event of the day will include a staff BBQ lunch held at our Hetherington Street Depot, with the Director's teaming up with a member of staff in a cake decorating competition. The competition is a means of breaking down barriers and garnering a sense of organisational cohesion between staff and the Executive team through a humorous and hands-on activity.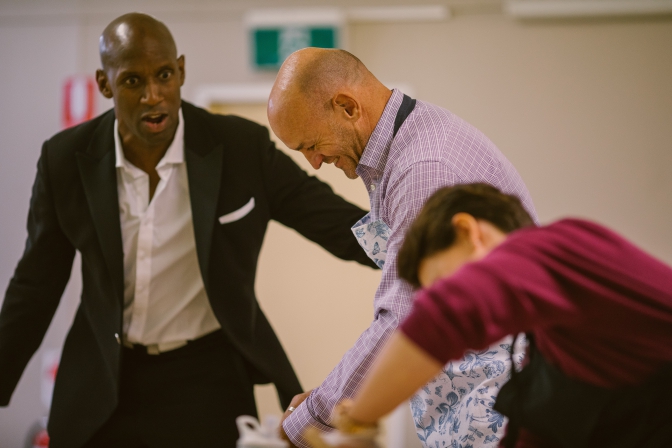 Special thanks to Warwick, Nikolina and the team for what was an incredible day as the photos show.
Feedback
"Robert, you are such an incredible person. A thousand "thank yous" wouldn't be enough for the energy, enthusiasm and passion you gave to this event. We were so lucky to have you a part of this day and we've received nothing but positive responses about your presentation and charisma." – Goulburn Mulwaree Council